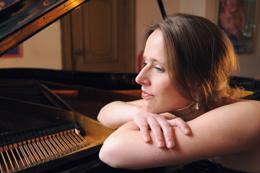 Eke Simons
"Young, incredibly talented, virtuoso, and lyrical"
Eke Simons (1981) performs as a soloist and chamber-musician in Europe. She has given solo recitals in Vredenburg Utrecht, Muziekgebouw 't IJ Amsterdam and during the Amterdam Grachtenfestival. Eke is an often invited guest in Sweden. Her concerts has been broadcasted by Radio 4, Radio West, Concertzender and NPS. Eke has been soloist in Mozart's concert for piano and orchestra KV 491 in c-minor. With her interpretation of "Chapters", written by Antal Sporck, she has received the Sporck prize for interpreters in 2010. In cooperation with the visual artist Bart ten Bruggencate she performs in their project "Music in Image". Along the piano-recital the audience can enjoy paintings inspired by the music. As chamber-musician Eke performs among others with master-cellist Harro Ruijsenaars. Also she worked together with the Swedish pianist Dag Achatz, the world-famous percussionist Colin Currie and big ensembles as the New European Ensemble. Also she performed in the most well known theaters in Holland and Sweden. Eke Simons finished her piano-studies at the Royal Conservatory in the Hague cum laude with Geoffrey Madge and David Kuyken in 2007, when she obtained the title Master Solo Piano. At the Royal Conservatory in Brussels she specialized in song accompaniment. Also she studied solo-repertoire with the well-known Swedish pianist Ingemar Hedvall and assisted at numerous master-classes of international reputed musicians.
In august 2013 Eke Simons has recorded her debut CD with works by Schumann, Liszt, Wiklander and Janácek.
photo: Alina Antoniou