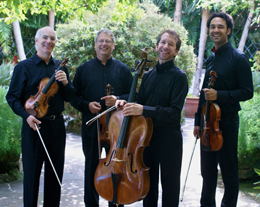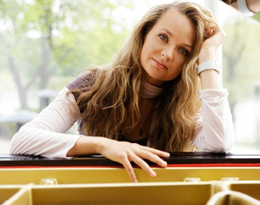 Fine Arts Quartet
Anastasia Injushina, piano
The Fine Arts Quartet, "one of the gold-plated names in chamber music" (Washington Post), ranks among the most distinguished ensembles of our time, with an illustrious history of performing success and an extensive recording legacy. Founded in Chicago in 1946, and based at the University of Wisconsin-Milwaukee since 1963, the Quartet is one of the elite few to have recorded and toured internationally for over half a century. Each season, violinists Ralph Evans and Efim Boico (who have been playing together nearly 30 years), interim violist Juan-Miguel Hernandez, and cellist Robert Cohen perform worldwide in such cities as New York, London, Paris, Berlin, Rome, Madrid, Moscow, Tokyo, Beijing, Istanbul, Jerusalem, Mexico City, and Toronto.
The Quartet has recorded more than 200 works. Their latest releases include the piano quintets and piano quartets of Saint-Saëns and Schumann, the world premiere recording of Efrem Zimbalist's Quartet in its 1959 revised edition, the world premiere digital recording of Eugène Ysaÿe's long-lost masterpiece for quartet and string orchestra, "Harmonies du Soir"; Fritz Kreisler's String Quartet, the two Saint-Saëns String Quartets, three Beethoven String Quintets; the Franck String Quartet and Piano Quintet; Fauré Piano Quintets; complete Bruckner chamber music; complete Mendelssohn String Quintets; "Four American Quartets" by Antheil, Herrmann, Glass, Evans; complete Schumann Quartets; and the Glazunov String Quintet and Novelettes. Aulos Musikado released their complete Dohnányi String Quartets and Piano Quintets. Lyrinx released both their complete early Beethoven Quartets and complete Mozart String Quintets in SACD format.
The Quartet's recent recordings have received many distinctions. Their Fauré Quintets CD on Naxos with pianist Cristina Ortiz was singled out by the 2012 Gramophone Classical Music Guide as a "Gramophone award-winner and recording of legendary status", and was among the recordings for which musical producer Steven Epstein won a 2009 Grammy® Award ("Producer of the Year, Classical"). The Quartet's Franck CD was named "Editor's Choicer" by Gramophone Magazine in February, 2010, and their Glazunov, Mendelssohn, and Fauré CD's were each named a "Recording of the Year" by Musicweb International (2007-2009). In addition, their "Four American Quartets" album was designated a ";BBC Music Magazine Choice" in 2008, their Schumann CD was named "one of the very finest chamber music recordings of the year" by the American Record Guide in 2007, and their Mozart Quintets SACD box set was named a "Critic's Choice 2003" by the American Record Guide. Nearly all of the Quartet's Naxos CDs were selected for Grammy® Awards entry lists in the "Best Classical Album" and/or "Best Chamber Music Performance" categories. Special recognition was given for the Quartet's commitment to contemporary music: a 2003-2004 national CMA/ASCAP Award for Adventurous Programming, given jointly by Chamber Music America and the American Society of Composers, Authors, and Publishers.
The Quartet members have helped form and nurture many of today's top international young ensembles. They have been guest professors at the national music conservatories of Paris and Lyon, as well as at the summer music schools of Yale University and Indiana University. They also appear regularly as jury members of major competitions such as Evian, Shostakovich, and Bordeaux. Documentaries on the Fine Arts Quartet have appeared on both French and American Public Television.
Anastasia Injushina
As artistic director of a festival and a frequent visitor at concerts I read a lot of artist biographies and CVs. Most of them start with phrases like "praised by critics", "one of the most brilliant / interesting pianists / cellists / violinists of his/her generation". Let's do something different for a change. I would like to simply tell you who I am and you can make up your mind about the rest yourself. I come from a Russian family of engineers. I probably wouldn't even be a musician if I hadn't heard a Dvorak violin concerto at the age of 3. I became obsessed with classical music. We were living in Brazil at the time, so my mother had to wait a couple of years before she could enroll me in a music school in the Soviet Union. I have nothing to say about my studies. They were like those of any other young professional musician in the Soviet Union. After school I wanted to try something different from the standard way, which was studies at St. Petersburg conservatory school and then on to St. Petersburg State Conservatory. So I went to Finland. It was around the time when the Soviet Union collapsed and a lot of things happened. Years are passed and I am still obsessed with music. Meanwhile I have won a competition (ARD in Munich) and have at times received critical praise. Other times the critics have not been pleased. In Munich I found a new love: chamber music. For 15 years I've been a "hyperactive" chamber musician, spending my free time learning the new repertoire and listening to the music. Of course, when given the chance, I started my own festival. Every spring when the festival starts, those are the brightest days of the year for me. It's customary to mention your teachers in a biography. Who are my teachers? I think the best teachers I ever had were Walter Gieseking, Wilhelm Furtwängler and other great musicians of the past. If you don't like the word "the past&quot, I'll just say that even the Greek philosopher Plato believed the blessed wise men of antiquity lived closer to god. So, as you see, this problem is quite old. Seriously speaking, I learn all the time and often meet the colleagues so greatly I admire and from whom I learn. One of the highlights of this season is the recording of the music of J.S Bach and his sons, which is released internationally in February/March 2013.