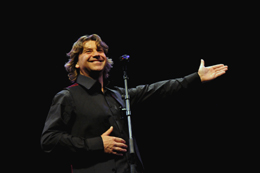 Gildas Delaporte, voice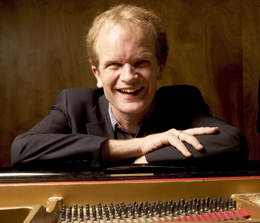 Bert van den Brink, piano


The Frenchman Gildas Delaporte, born in Dijon, has many musical talents. Besides that, he is also a good photographer. He plays the contrabass in the Philharmonie zuidnederland. Also he is a well-known carillon player. On a regular base he let the beautiful bells of small and big churches shine. Recently in the big cathedral the "Dom" of Utrecht. He has won international carillon-competitions. In 2012 he was selected for the final of the "French Chansons competition" in Amstelveen (Holland). Fascinated by the beautiful poems of great French writers as Baudelaire, Victor Hugo and Marceline Desbordes-Valmore, he decided to compose the music for some of the most impressive poems as are the "Four Promenades" by Victor Hugo. Together with the pianist Bert van den Brink they created twelve remarkable chansons on poems for voice, piano, accordion and contrabass in from song to song changing instrumental arrangements. Because of the successfully financial and moral support obtained by crowd-funding at the foundation "Stichting voor de Kunst", they were be able to record a CD with the twelve Chansons. One chanson Gildas has written himself to honor the Dutch writer Etty Hillesum who was murderded in Auschwitz in 1943. On the 17th of May Gildas and Bert will present proudly their new CD release.

Bert van den Brink studied piano at the Conservatory of Utrecht where he did complete his classical education cum laude in 1982. His teacher was Herman Uhlhorn. In the same year the institute offered him a job as a jazz-piano teacher. From childhood he has been attired by the improvisation on organ and piano. In this domain he is an autodidact. Starting his professional career he has given several classical recitals but more and more the jazz did take the lead. He played together with a fine selection of national and international artists as there are Gino Vanelli, Richard Bona, Toots Thielemans, Miranda van Kralingen, Chet Baker, Nat Adderly, Eric Vloeimans, Jules de Corte, Jannie du Toit, Dee Dee Bridgewater and many others. Please look at a more completer listing at Bert van den Brink
In 2007 Bert van den Brink, who is completely blind, has been awarded the VPRO/Boy Edgar award. Besides playing (also on other instruments as for example accordion) he has composed and arranged many works. His works are among others performed by "Het Metropole Orkest" and "Het Nederlands Blazers Ensemble". One of the highlights is also his arrangement of the opera Porgy and Bess, played by the Houdini's and the "Nieuw Symfonietta Amsterdam". Tens of CD's, playing alone or with other musicians, have been released. Despite this impressive career he is still full of passion and new plans...